OKIBO Robot is driving automation in the construction industry with new robotic automation solutions to address key challenges, including shortage of skilled professionals and efficiency. 
BuiltUp Ventures, The Tel Aviv- and New York-Based Venture Capital Firm is Continuing to Expand its 360-Degree Real Estate Solution for the US and Middle East Market and has made a significant investment in OKIBO.
"We are pleased to welcome Okibo to BuiltUp Ventures' 360-degree solution, which provides customers with the pieces needed to build a comprehensive proptech ecosystem," said Oded Eliashiv, Principal and Founding Managing Partner of BuiltUp Ventures. "As a value add partner to our portfolio companies, we put a lot of emphasis on the product market fit before we invest. We identified Okibo as an important investment opportunity via the markets we are working with such as the UAE and Europe that have come to be acquainted with the company as well as with their engagement with early adoptors to fine tune their solution to the market requirements. We are also proud of Okibo's pilots in Germany that prove that they are at the forefront of the industry by far."
OKIBO is developing smart, autonomous robots designed for construction sites. Founded in 2018 Okibo's robot is designed for the harsh conditions of a construction site. It has 3D scanning and real time modeling technology (USPTO approved), autonomous path planner, floor to ceiling reach. The robot uses advanced sensors and it is fully battery operated. 
The company's first product is a drywall finishing robot performing plastering, sanding and painting applications that will be used to solve the huge shortage of skilled professionals in the construction industry. The 2020 AGC survey highlights the most notable effects of the skilled labor shortage in construction: 57% cite the skilled labor shortage as the biggest challenge to worker health and safety. 44% of companies have seen higher project costs. 40% say that projects are taking longer than anticipated.
The best way to address the skilled labor shortage in construction is to make the most of the available workforce combined with technology and robotics, can have a dramatic impact on your day-to-day efficiency.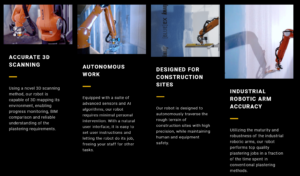 "It is with great pleasure that OKIBO becomes part of the BuiltUp Ventures portfolio. We hope to build together a large-scale world leading company that will allow the construction industry to face its biggest challenges and step up to a whole new level of efficiency, productivity and quality. We were very excited to find that BuildUp Ventures shares our vision and we are looking forward to growing fast with the help of their strong ecosystem and Venture Capital tailwind."  said Guy German, CEO & Co-Founder of OKIBO.